Get a free quote or proposal for
Bar Coater with Backing Roll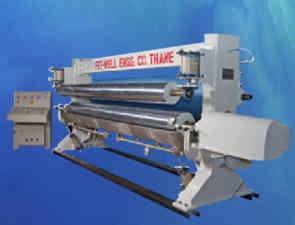 DESCRIPTION:

It is modified version of above Bar Coater. In this machine coating Chemical Metering is done by Metering Bar against Backing Roll (Roller Coated with Soft Rubber) and Chemical Coating is more smooth and compact. Coating is done from 4 GSM to 12GSM in this machine. The Machine is very compact and robust in construction with all pneumatic arrangement for Loading Roll and Lifting Chemical Tray Control Panel is supplied with machine having VFD control to control linear speed of applicator roll and metering bar. There are pneumatic control also to lift metering bar beam, loading Metering Bar against Backing Roll, lifting Chemical Tray and lowering & lifting paper Roll. It is complete in all respect with Voltmeter, Ameters and R.P.M indicator.

COMMERCIAL DETAILS:

FOB Price *
Not Mentioned
Payment Terms
L/C

MORE DETAILS:

Sample Offered?
Not Applicable
Sample Terms
Not Applicable.
* Prices are subject to change. Please contact the supplier for the latest price.
Similar Products from Companies in Rest of India
We offer a diverse assortment of Coating and Laminating Machines which includes Dry/Wet Lamination Machine sutable for Flexible Packaging Units, BOPP Self Adhesive Tape coating Machine and ...
---
Salient Features: * Inclined size press designed for on line sizing on the paper/paper board. * Rolls are lined with special rubber suitable for surface sizing. * Size kitchen in SS construction. ...
---
Similar Products from Suppliers in Other Countries
---
---
---
---
---
---
---
---
---
---
Find More Products in These Categories
Looking for Buyers Instead?