Get a free quote or proposal for
Classique Lokta Yellow Color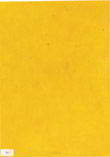 DESCRIPTION:

Products: Classique Lokta Code: P3B Size: 50*75 cm Color: YL 1 GSM: 65 We look forward to receiving classique lokta inquries from buyers.

COMMERCIAL DETAILS:

FOB Price *
Not Mentioned
Payment Terms
L/C

MORE DETAILS:

Packaging
Corrugated Box
Sample Offered?
Yes
Sample Terms
Supplier sends free sample and buyer pays the shipping fee.
* Prices are subject to change. Please contact the supplier for the latest price.
Similar Products from Companies in Rest of Nepal
A variety of traditionally Nepalese Handmade Lokta paper and recycled paper products available as stationary (Note book, letter pads, etc.) and as packaging (gift bags, gift boxes).
---
Find More Products in These Categories
Looking for Buyers Instead?