Selling
A4 Copy Paper
DESCRIPTION:

The copy paper provided is with optional grammages/substances, different brightness, 100% wood pulp and all kinds of sizes. And it is suited for Photocopy Machines, Laser Printers, Ink-jet Printers, Fax Machines.

COMMERCIAL DETAILS:

FOB Price *
Not Mentioned
Payment Terms
T/T

MORE DETAILS:

Sample Offered?
Yes
Sample Terms
Supplier sends free sample and buyer pays the shipping fee.
* Prices are subject to change. Please contact the supplier for the latest price.
Similar Products from Other Suppliers in Qingdao
---
---
---
---
Similar Products from Companies in Rest of China
Dear sirs, About A4 copypaper 100% pure wood-pulp,80gsm, brightness98%-102% Now our main A4 copypaper for exporting are "snow" and "austral" Shipment will be arranged after received LC within...
---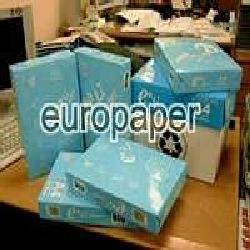 We sell photocopy/Xerox paper with the following specifications. Please send us your inquiry and we will respond as soon as possible.
---
Copier paper A4 A3 B5...... Advantages: No jam in photocopy machine, No double feed, Stay flat after copying. Leave no dust in the copy-machine, Nice appearance-white and clean, Nice touch-smooth...
---
We are paper trading company from China. We are handling art paper, offset paper, copier paper, craft paper, woodfree white/color, etc.
---
Similar Products from Suppliers in Other Countries
---
---
---
---
---
---
---
---
---
---
Find More Products in These Categories
Looking for Buyers Instead?