Get a free quote or proposal for
High quality a4 copy paper (80gsm/75gsm)
DESCRIPTION:

Our A4 Copy Paper and Double A4 paper gives you a premium finish every time and High quality paper renown for its excellent performance and environmental friendly attributes suitable for photocopies. Carbon neutral and FSC certified, this 80gsm paper has an ultra-white finish making it perfect for presenting your big ideas. Comes in a carton of five 500 sheet reams. Features: High quality 80gsm paper with a 100% run ability guarantee to avoid paper jams. Acid-free, allowing for archival storage of your documents for several hundred years. Exceptional whiteness gives you a premium finish every time. Responsibly sourced and FSC certified, promoting responsible management of the world's forests. Carbon neutrality ensures that all green house gases caused within the product life cycle have been measured and offset to negate climate change impact. Copy paper 80 Gsm. Paper size A4 (210 X 297 mm.) Product details A3 (297x420 mm.) 500 sheets A4 (210x297 mm.) 40 sheets, 100 sheets and 500 sheets B4 (257 X 364 mm.) 100 sheets F14 (216 X 356 mm.) 40 sheets, 100 sheets and 500 sheets 1. Sheet Size cheap white 100% wood pulp a4 bulk copy paper: 210mm x 297mm, International Size A4 2. Quality: Imported 100% Virgin Wood Pulp 3. Whiteness = 102-104% , Natural White 4. Capability: High Speed Copying 100ppm, Laser 5. Capable, Inkjet Capable, Fax Capable. 6. Thickness: 103-110 um 7. Surface roughness TS ml/ min: 75-175 8. Surface roughness BS ml/ min: 100-200 9. Bending stiffness MD: > 110 Mn 10. Bending stiffness CD: > 50 Mn 11. CIE whiteness: 148-152 12. Cobb Test: 27-33 g/ m2 27-33

COMMERCIAL DETAILS:

FOB Price *
Not Mentioned
Payment Terms
T/T

MORE DETAILS:

Packaging
500 sheets per ream, 5 reams p
Sample Offered?
Yes
Sample Terms
Supplier sends free sample and buyer pays the shipping fee.
* Prices are subject to change. Please contact the supplier for the latest price.
Similar Products from Companies in Rest of Thailand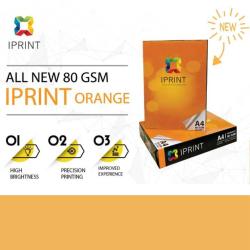 Our A4 paper 80 gsm is very good quality similar to a famous brand but cheaper. We have a modern packaging too.
---
Our A4 70 GSM is very good quality of A4 paper 70 gsm similar quality with the famous brand from Thailand but cheaper. It is suitable for printing, copying and painting.
---
We have A4 paper 80 gsm in bulk quantity which is around 5 X20 feet containers per month. contact us for more details
---
We are able to supply large quantity and best quality copy paper. For 70GSM, A3, A4, B4, B5, 8.5X11"", 16K, 8K are available; For 80GSM, A3, A4, B4, B5, 8.5X11"", 8.5X13"", 8.5X14"", 11X17"" are...
---
Item Highest Level Logo Printed Customization Clearance Price 100% Wood Pulp A4 Paper Wholesale 80 Gsm Type Copy paper/A4 Paper Paper Material 100% virgin wood pulp Size A4, B5, letter size ...
---
Similar Products from Suppliers in Other Countries
---
---
---
---
---
---
---
---
---
---
Find More Products in These Categories
Looking for Buyers Instead?