Get a free quote or proposal for
Slitting Rewinding Machine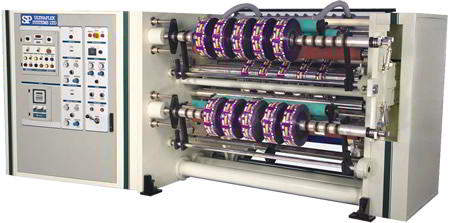 DESCRIPTION:

DSR RL 400 (Rear loading version)- The unwind is Integrated with the main machine and on the side opposite to the Rewind shafts The DSR RL 400 Slitting rewinding machine is extensively used in the Flexible packaging and Converting industry to convert Plain/ Printed/Coated/ Co-extruded and Laminated combinations of base materials such as Paper, Plastic films such as OPP, PET, CPP,PVC, POF and Aluminum foil. Distinct advantages- -High speeds of 400 m/min and reasonably big diameters on the Unwind and rewind in a compact machine layout. -Shaftless unwind section. -Pneumatically operated cutting section. -Possibility of Tangential or wrapped cutting. -Unique S wrapped, segmented rider roll assembly. -Pneumatic slide door provides rigid support to rewind shafts. -Average rewind changeover time of under 3 minutes. -Differential rewind shafts with Ball locks.

COMMERCIAL DETAILS:

FOB Price *
Not Mentioned
Payment Terms
L/C

MORE DETAILS:

Sample Offered?
Not Applicable
Sample Terms
Not Applicable.
* Prices are subject to change. Please contact the supplier for the latest price.
Similar Products from Companies in Rest of India
Salient Features: * Heavy Duty Rewinder for trimming and rewinding of Paper Web in required Reel Size. * Rewinding is done by friction on double drum rolls duly loaded with chrome coated Rider Roll...
---
Similar Products from Suppliers in Other Countries
---
---
---
---
---
---
---
---
---
---
Find More Products in These Categories
Looking for Buyers Instead?