Get a free quote or proposal for
Virgin Unbleached Craft/Kraft Paper, Bleached Kraft Paper
DESCRIPTION:

Virgin Unbleached Craft/Kraft Paper and Bleached Kraft Paper available in 45 to 350 GSM. Also have papers available in different colors including black color from 50 to 150 GSM. We also deal in white top liner ranging from 120 GSM to 400 GSM.

COMMERCIAL DETAILS:

FOB Price *
Not Mentioned
Place of Origin
Delhi

MORE DETAILS:

Product Condition
New
Sample Offered?
Yes
Sample Terms
Supplier sends free sample and pays the shipping fee.
* Prices are subject to change. Please contact the supplier for the latest price.
Similar Products from Other Suppliers in Delhi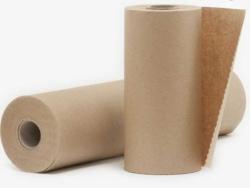 We provide kraft paper available between 29 gsm to 100 gsm, in plain and ribbed categories. They all come in various colors as per your choice.
---
Similar Products from Companies in Rest of India
---
---
---
---
---
---
---
---
---
---
Similar Products from Suppliers in Other Countries
---
---
---
---
---
---
---
---
---
---
Find More Products in These Categories
Looking for Buyers Instead?