Get a free quote or proposal for
coated,newsprint, offset, copy paper
DESCRIPTION:

We come from Qingdao Yifengze Industry Co.,Ltd which located in Qingdao, China. We know your company from the internet and also have a idea that your are very competitive in the market for the paper business . Yifengze has developed consistently and steadily and becomes a group enterprise with higher reputation home and aboard since founded in 1999. The company involves many fields such as manufacture, trade, logistics and storage etc with business coving over 10 countries. The company insists on developing beneficial industries with core competitive capacity and cooperates with several parties, accomplishing mutual supplementary of benefits, resources share and win-win development. We have establish a good relationship with many paper mills in China, and can purchase all kind of paper products with lowest price in the field, like COATED WOODFREE PAPER, UNCOATED WOODFREE OFFSET PAPER, COATED BOARD, FBB, LWC, LIGHT PAPER, NEWSPRINT PAPER , COPY PAPER and what you want to purchase. If you are interested in the cooperation to purchase paper from China pls contact me. Or if you need we can post the paper samples to you also can send you the specification of the paper.

COMMERCIAL DETAILS:

FOB Price *
Not Mentioned
Payment Terms
T/T

MORE DETAILS:

Sample Offered?
Yes
Sample Terms
Supplier sends free sample and pays the shipping fee.
* Prices are subject to change. Please contact the supplier for the latest price.
Basic Member
Jason Zhai
Manager, Qingdao Yifengze Industry Co.,Ltd.
Member Since: Apr 2009
When you contact Jason Zhai, tell them you found their company details on PaperIndex.
Location
| | |
| --- | --- |
| Address Line1 | Taiping Road No.51 |
| City | Qingdao |
| Postal Code | 266000 |
| State | Shandong |
| Country | China (Mainland) |
| Region | East Asia |
This profile was recently viewed by visitors from Germany, United States, Netherlands, India, France.
Similar Products from Other Suppliers in Qingdao
The copy paper provided is with optional grammages/substances, different brightness, 100% wood pulp and all kinds of sizes. And it is suited for Photocopy Machines, Laser Printers, Ink-jet Printers,...
---
Similar Products from Companies in Rest of China (Mainland)
Dear sirs, About A4 copypaper 100% pure wood-pulp,80gsm, brightness98%-102% Now our main A4 copypaper for exporting are "snow" and "austral" Shipment will be arranged after received LC within...
---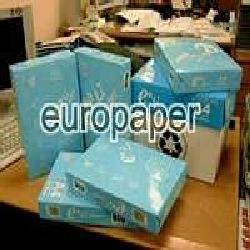 We sell photocopy/Xerox paper with the following specifications. Please send us your inquiry and we will respond as soon as possible.
---
We are exporting standard Newsprint 45/48.8GSM from China top paper mill to many countries already with mostly ROLLS, and also we can convert into SHEETS.Welcome to your further contact with details.
---
We are paper trading company from China. We are handling art paper, offset paper, copier paper, craft paper, woodfree white/color, etc.
---
Similar Products from Suppliers in Other Countries
---
---
---
---
---
---
---
---
---
---
Find More Products in These Categories
Looking for Buyers Instead?