Get a free quote or proposal for
Metallized Paper
DESCRIPTION:

Griff's metallized paper has a high gloss finish, it is abrasion, as well as scuff resistant. This paper has a metal layer, which makes it bright and glossy. The metallized surface makes this material perfect for high-end applications. Its reflectivity and gloss are exceptional, and smoothness characteristics are equal to, or better than, coated board. Our metallized paper is available in a variety of different colors and patterns. Please contact us today for all your a metallized paper product requirements.

COMMERCIAL DETAILS:

FOB Price *
Not Mentioned
Payment Terms
As mutually agreed

MORE DETAILS:

Sample Offered?
Not Applicable
Sample Terms
Not Applicable.
* Prices are subject to change. Please contact the supplier for the latest price.
Similar Products from Companies in Rest of United States
Item Code: PB-HB-(001-006) Theme: Birthday Gilded Paper Bag w/hang tag Color: 6 colors available Material: Coated white paper Substrate: 210gsm Sun white cardboard Max: Load: 4-6KG Item Code:...
---
Item Code: PB-DS-(001-013) Color: 15, 7, 5, 4, Theme: Monocolor Paper Bag Max. Load: 4-6KG Material: 210gsm Coated cardboard, 157 gsm C2S Art Paper, 150 gsm Kraft paper Size (inch) L*D*W:...
---
Similar Products from Suppliers in Other Countries
Laminated Gray Board Features and Advantage: Smooth surface, stiffness, suitable for gift box, wine box, hardcover book, puzzles and other products of the liner. Usage: 1.Advertising...
---
Self adhesive Semi gloss paper, cast coated paper, thermal paper, bopp, pp white, pp transparent, pe white, metalized paper, metalized film, data, laser..
---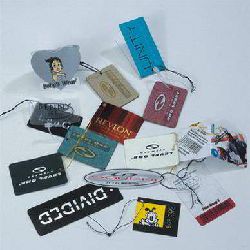 Features: 1) full color printing 2) made from PVC, kraft paper, artpaper 3) widely used in garments accessories 4) customers' design and sample are welcome
---
Polyethylene is directly extruded on paper. The quality of Paper & Gauge of polyethylene is as per customer specification. It can be cut to size as per client specification in sheet or it can also...
---
Find More Products in These Categories
Looking for Buyers Instead?