Get a free quote or proposal for
NCR paper
DESCRIPTION:

We are a supplier of various paper products as a manufacturer and exporter, and now we actively recommend our carbonless copy paper blue& black image which is high-grade office paper, it is a technology intensive products which image on pressure. It is widely used by bank, post service, businesses, tax authorities, and many other trades and industries. High image intensity, good light durability and low temperature imaging, detailed as follows: Carbonless Copy Paper blue/black image CB45, 50,55GSM, white, CFB50, 52GSM, white & colored CF47, 55GSM, white & colored Sheet and reel size can be accepted at my side Welcome to detail enquiry from all over the world, which is always appreciated. thanks!

COMMERCIAL DETAILS:

FOB Price *
Not Mentioned
Payment Terms
T/T

MORE DETAILS:

Packaging
standard export packing
Sample Offered?
Yes
Sample Terms
Supplier sends free sample and buyer pays the shipping fee.
* Prices are subject to change. Please contact the supplier for the latest price.
Similar Products from Companies in Rest of China
Dear sirs, About A4 copypaper 100% pure wood-pulp,80gsm, brightness98%-102% Now our main A4 copypaper for exporting are "snow" and "austral" Shipment will be arranged after received LC within...
---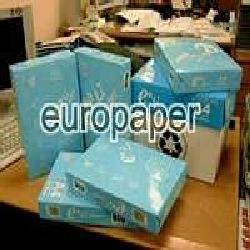 We sell photocopy/Xerox paper with the following specifications. Please send us your inquiry and we will respond as soon as possible.
---
The copy paper provided is with optional grammages/substances, different brightness, 100% wood pulp and all kinds of sizes. And it is suited for Photocopy Machines, Laser Printers, Ink-jet Printers,...
---
Similar Products from Suppliers in Other Countries
---
---
---
---
---
---
---
---
---
---
Find More Products in These Categories
Looking for Buyers Instead?