Get a free quote or proposal for
MG Kraft Paper
DESCRIPTION:

MG Kraft Paper is a natural brown kraft paper, which is unbleached and machine glazed on one side, and matte on the other.

COMMERCIAL DETAILS:

FOB Price *
Not Mentioned

MORE DETAILS:

Product Condition
New
* Prices are subject to change. Please contact the supplier for the latest price.
Similar Products from Companies in Rest of India
MG Kraft Paper White and Brown Recycled and Virgin GSM Range: 18 - 70 Sheets and Reels. Food Grade available.
---
I can regularly supply excellent quality lower GSM MG Kraft Paper both virgin & recycled paper from India. From 30 GSM up to 120 GSM.
---
Briota is supported by highly advanced machinery and a team of well experienced and competent team members. They have been toiling hard to provide the company a highly prominent name in the market;...
---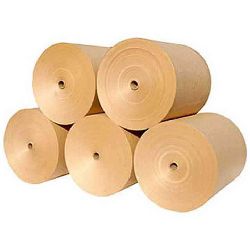 Machine Glazed (MG) Kraft Paper used in packaging industry. We have Kraft range starting from 30 GSM to 250 GSM.
---
Type: MG KRAFT PAPER Color: NATURAL BROWN Gsm: 100 GSM TO 150 GSM Strength: 12 BF -14 BF Size: 54 INCH WIDTH
---
Similar Products from Suppliers in Other Countries
Our MG Semi Virgin kraft paper is of high strength, exceptional printable surface for Paper bags and wrapping. Semi Virgin MG kraft paper is a machine-glazed paper with a natural colour, made from...
---
We offer the recycled MG kraft paper from 25 GSM up to 100 GSM Qualities : alpha, beta, gama
---
Find More Products in These Categories
Looking for Buyers Instead?