Get a free quote or proposal for
Paper Cup - Red Color
DESCRIPTION:

True Value International is a volumetric manufacturer and exporter of paper plates, paper glasses and paper napkins. We are known for manufacturing high quality paper products at reasonable pricing. True Value International brings you the world's best paper plate,Paper Cups and paper napkins. All our paper plate and napkins are Eco-friendly, Handcrafted, Acid free paper products. We use the best quality raw material to manufacture our paper products. All our products are made by expert hands without compromising on the quality.

COMMERCIAL DETAILS:

FOB Price *
Not Mentioned
Payment Terms
L/C

MORE DETAILS:

Sample Offered?
Yes
Sample Terms
Supplier sends free sample and buyer pays the shipping fee.
* Prices are subject to change. Please contact the supplier for the latest price.
Basic Member
Vishal Kumar
Director, True Value International
Member Since: Nov 2006
When you contact Vishal Kumar, tell them you found their company details on PaperIndex.
Location
| | |
| --- | --- |
| Address Line1 | 46, Patparganj Indl Est. |
| Address Line2 | Delhi |
| City | Delhi |
| Postal Code | 110092 |
| State | Delhi |
| Country | India |
| Region | South Asia |
Office Schedule
| | |
| --- | --- |
| Working Days | Monday through Friday |
| Working Hours | 10 AM to 6 PM |
This profile was recently viewed by visitors from Netherlands, United States, Germany, India, France.
Similar Products from Companies in Rest of India
We are manufacturing paper cups. PE coated disposable paper cups. For hot and cold drinks. Our company is engaged in manufacturing a qualitative range of Paper Cups for cold & hot beverages for our...
---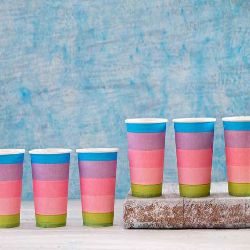 We have a very wide range of Paper cups sizes that we manufacture, also apart from Single wall cups, we can manufacture Double wall and Ripple wall cups as well. Offering 100% leak-proof paper...
---
We make high-quality paper cups made with food graded ink. Cup size - 140 ML and 210 ML. Paper Quality - ITC, 225 GSM, Multicolor. A 75% advance payment is required while placing the order.
Kaagat Vadodara, Gujarat, India
---
Sale of Paper cups 85 ml and Egg trays non chemicals please contact for further detaisl which will be provided with samples.
---
Similar Products from Suppliers in Other Countries
---
---
---
---
---
---
Find More Products in These Categories
Looking for Buyers Instead?