Get a free quote or proposal for
Jumbo roll paper and board sheeter 1400
DESCRIPTION:

AC servo precision high speed sheet cutter CHM-1400/1700/1900 This series of machine is used to cut the paper roll into paper sheets. It adopts advanced technology of British and it is driven by AC servo motors, the high cutting speed reaches 300 cuts /min. And it can cut 8 paper rolls at one time. It is also equipped with automatic deflection rectify and antistatic device. The paper feeding and delivering units are automatic with the hydraulic system. The human and machine interface system could make operation become much easy and more convenient. Model: CHM-1400/1700/1900 MAIN SPECIFICATIONS: weight of paper: 60-550gsm Cutting accuracy: 0. 5mm tolerance allowed Max. Cutting speed: 300sheets/min, operation speed depends on cut length, paper quality, paper grade&grammage. Max. Cutting meter speed: 300m/min Cutting length range: 450-1450mm Max. Diameter of reel: 1800mm Sheet stack height: 1300mm Max. Width of cutting paper: 1400mm/1700mm/1900mm MAIN WORK SECTIONS: Cutting section: 2. Computer operation interface, easy to operate. 2. High precision special alloy steel knife 3. Cutting accuracy is 0. 5mm tolerance Paper feeding section: 1. Double limbs oil pressure shaftless paper rack 2. Auto tension control system 3. Auto paper edge guiding system Electric control section: 1. PLC control system 2. AC servo driving motor 3. High precision encoder&cutting 4. Long endurance Slitting knife: 1. Three sets of slitting knives 2. Used for trimming and middle slitting Paper conveyer system 1. The number of overlapping sheets can be adjusted by this section. 2. The single sheet outlet can be adjusted.

COMMERCIAL DETAILS:

FOB Price *
Not Mentioned
Payment Terms
L/C

MORE DETAILS:

Sample Offered?
Not Applicable
Sample Terms
Buyer pays the sample cost and the shipping fee.
* Prices are subject to change. Please contact the supplier for the latest price.
Similar Products from Companies in Rest of China
---
---
---
---
---
---
---
---
---
---
Similar Products from Suppliers in Other Countries
Roller-stamp machine is designed for punching (cutting) boxes, regular and irregular shapes. Withdrawal of tools is automatic. For each type of box is needed another tool.
---
Sheeter Cutter Specifications: Mill Roll Stand: Double swing arm shaftless type. Hydraulic control of roll load/ unload and arm raise/ lower. Multi-pad brake for paper tension control. Decurler...
---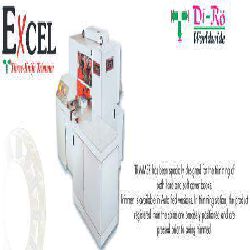 3 Knife Trimmer TRIMMER has been specially designed for the trimming of both hard and soft cover books. Trimmer is available in Auto Fed versions. In trimming station, the product registered from...
---
sell at cheap price used sheeter, brand Bruderhaus, width 1400 mm, capacity 20 T/D, Applied for thin papers and printing/writing papers
---
We sell semi and fully automatic die cutters with stripping from Eterna. See below for die cutter features and contact us for our best offer.
---
We supply flexo printer slotter and rotary die cutters manufactured by from Dong Fang. Please contact us with your requirement and we be glad to respond to you at the earliest.
---
Find More Products in These Categories
Looking for Buyers Instead?