Get a free quote or proposal for
Pulp Thickner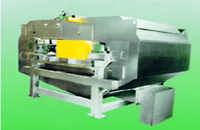 DESCRIPTION:

Our high speed pulp washing machine is used to wash deinked pulp to remove ash and ink particles. It has belt width of 500mm?1000mm?1500mm?2000mm.

COMMERCIAL DETAILS:

FOB Price *
Not Mentioned
Payment Terms
L/C

MORE DETAILS:

Sample Offered?
No
Sample Terms
Not Applicable.
* Prices are subject to change. Please contact the supplier for the latest price.
Similar Products from Companies in Rest of China
It is one kind of black liquor extracting, pulp thickening and washing equipment, making continuous dewatering displacement, washing, pressing and discharging under the action of pressure.
---
Similar Products from Suppliers in Other Countries
---
---
---
---
---
---
---
---
Find More Products in These Categories
Looking for Buyers Instead?